Black Book
From The Giant: The Definitive Obey Giant Site
From the Black Book, July 21, 2008.:

Notes From LA's Art Underground
There's a culture boom exploding on the West Coast. Acclaimed artists Aaron Rose and Shepard Fairey, both deeply entrenched in the playful, renegade mash-up, rank the top ten cutting-edge venues in L.A.
By Alison Powell.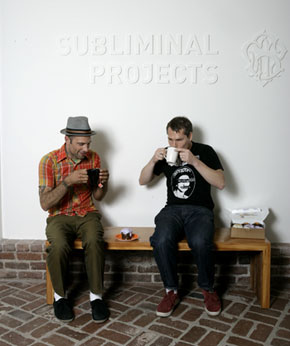 For all its glamor and hipster mystique, art is not much different from oil, gold or the railroad. When you want the freedom to tackle new territory on your own terms, the adventurer is called to "Go west." And that is exactly what many of New York's underground artists and gallery owners have done to keep their work fresh with the spirit of reinvention. But the warm blood of the Los Angeles art scene, which is currently the hottest, most fertile and experimental in the country, draws its oxygen from many sources. In a city that spreads out for limitless miles, the mix of cultures across hundreds of neighborhoods -- many of which off er rents friendly to starving artists -- possibilities are also without boundaries. In neighborhoods such as Silver Lake, Echo Park, and across the fly blown fringes of downtown, kids are creating an artistic life around music, art, fashion and an awesome set of skateboard trucks.
Shepard Fairey and Aaron Rose are two such artistic seekers who came to California to stretch their arms out sideways aft er years of working within the narrow corridors of the East Coast art establishment. In L.A., says Rose, "There is access to space so that artists can experiment. Here, there is the freedom to make mistakes." Fairey, a graduate of the Rhode Island School of Design, bombed all of New York with his subversive yet playful street art, the most iconic of which is his Obey image of the late professional wrestler, Andre the Giant. Fairey captured the spirit of the times again this spring with his moving red, white and blue poster of Senator Barack Obama, the image anchored with the word "Hope" or "Progress." Says Fairey, "People come up and tell me that when they fi rst saw it, they started crying."
In the early 1990s, Rose stamped his mark on Manhattan with his own gallery, the freethinking collective, Alleged. Showing in a storefront on the Lower East Side—before bond traders took over—Rose gave a platform to the DIY aesthetic that now informs the most cutting-edge art in Los Angeles. This month, Beautiful Losers, Rose's inspiring documentary about that movement, hits theaters. In it, one can see the through line between the moving art made by genuine nobodies (at the time), and its successors in the renegade galleries of L.A. circa 2008. Jo Jackson, one of the artists featured in Beautiful Losers, describes the potency of the work seen in the film: "Anyone can make things with their hands," she says. "They just can't look for perfection." She could have been talking about L.A. right now.
Originally from Southern California, Rose has returned to claim his creative birthright, twining his roots deep into the high desert sand. His peer, graphic designer/artist Fairey's origins are in skateboard art, punk rock and a thirst for the vernacular—and this pedigree in grit is L.A.'s magic. A mash-up of Mexican culture, old school cholo graffiti, hip-hop sounds, skate and surf style, and the legacy of bands such as Black Flag and the Germs, the city pulses with colors and textures that don't exist anywhere else.
Meeting up in Fairey's multi-tasking Echo Park studio and gallery space, Subliminal Projects, Fairey and Rose compare notes on their favorite underground art spots. It is a wide-ranging talk that crackles with the electricity of the moment.
Subliminal Projects Gallery 1331 West Sunset Boulevard 213-213-0078
Owned and run by Shepard Fairey, Subliminal shows art chosen by Fairey, rather than his own work. Sitting right at the mouth of Dodger Stadium, the location is a fitting populist statement. "Since the time we started, we made a screen print for every artist we showed. Someone might not be able to afford a $500 painting, but they might be able to afford a $50 print." Plenty can afford the full price. Hollywood creative types, such as Joaquin Phoenix, drive miles east along Sunset Boulevard to buy art unburdened by the pressure to make the gallery's rent. Explains Fairey, "One of the reasons L.A. is producing such interesting work is that there is not a huge need to sell. At some galleries, you can go in and propose your own show. It's the work that matters, not the name."
Choke Motorcycle Shop 4157 Normal Avenue 323-662-4653
Nestled in the heart of boho Los Angeles, on a quiet street in Silver Lake, Choke is a bemusing hybrid. "It's a motorcycle repair shop and café and art gallery," says Rose. "They have installations with great art, but there are also 'coffee artists' in the form of master baristas. It's got the best espresso in the city." It is also home to mechanical art. Recently, Choke owner Jeff Johnson transformed a vintage 1960s VW Beetle into his fantasy Baja Bug. No matter what they come for, some of the most creative people in Los Angeles hang out here. "I walked in the other day," says Rose, "and Rickie Lee Jones was hanging out on the couch sitting next to some ratty kid covered in grease."
Hope Gallery 1547 Echo Park Avenue
The Hope Gallery is quietly going about its mission to show cutting edge art. Recently though, it made some noise with a show of work from Hamburger Eyes, a San Francisco-based experimental art collective and magazine. Rose simply says the phrase "Hamburger Eyes" to Fairey and the two nod in recognition. "Art shows are springing up everywhere now," says Shepard. "I went to an opening in the garage of someone's house in Echo Park. Very often a rock gig will spontaneously turn into an art exhibit."
New Image Art 7908 Santa Monica Boulevard 323-654-2192
New Image is in cozy West Hollywood, a neighborhood with proper brunches and secure parking. Nonetheless, the gallery has been promoting the work of unknown artists for over years. Shepard knows it well: "Marsea Goldberg, who owns New Image, gave me my first show in 1997. Marsea always takes a chance."
Tiny Creatures 628 North Alvarado Street
North Alvarado is something of an exotic locale for culture seekers, fl ung as it is on the edge of Glendale. "I first noticed this gallery when they had a show curated by a local punk rock band," says Rose. "How many galleries ask a band to curate a show?"
Family 436 North Fairfax Avenue 323-782-9221
One pivotal element to the L.A. art world is the self-produced art book or graphic collection. "What I love about Family," says Fairey, "is that there is a lot of handmade art and limited runs. You don't have to be into comics at all to appreciate the care with which they create the work. And they don't just stock what is expected to be cool. You can tell the personality of the people who run the shop."
Ooga Booga 943 North Broadway, #203
While no longer the L.A. art epicenter, Chinatown still boasts one of the area's hottest galleries. Says Rose, "Ooga Booga is a very cool curated gallery of homemade publications. On one wall they show pieces of art. What is important now in art is that there are things to buy. It really is the Warhol economy, in which artists make T-shirts, bags, utilitarian pieces and CDs." Nearby neighborhoods continue to grow and, last winter, the Geffen Contemporary at MOCA hosted the Murakami exhibit adjacent to Little Tokyo.
Berdhouse Gallery 1505 ½ Echo Park Avenue 213-482-9976
Still making its name is the Berdhouse Gallery. This one is truly in the nascent stage. So are its owners. Says Rose, "Jessie Spears, who is a very cool artist, sent me to this place. The gallery is tiny and run by very young people. I mean, like, teenagers. Hanging out in front were these kids who look like the Mexican version of the band the Misfi ts." A recent exhibit featured a collaboration by the L.A.-based Derek Albeck and the U.K. artist French, exploring pen and ink images of monks, knights and forms of desolation.
Exhibit A 1086 South Fairfax Avenue
In a true nod to the impact skateboarding has made on local art, pro skateboarder and artist Tony Alva recently opened his own gallery in Little Ethiopia, Exhibit A. One of Alva's early shows was of work by Mark Gonzalez, a skater and artist Rose showed in New York at Alleged. Fairey has shown there as well, putting up a series of his rock-inspired silk screens, some on wood. As Fairey explains, "The umbrella of street art is skateboard culture." Fairey deejayed his own opening, which makes sense given his personal philosophy. "People make paintings and aspire to get people turned on to that," he says. "But L.A. is about art as a hip lifestyle and art has multiple uses. A painting can also be a record cover, and the road to art appreciation is paved with a good party, a good DJ or a limited-edition CD."
The city of Los Angeles.
Perhaps the most compelling local space for artistic invention is the city of Los Angeles itself. "I like the derelict side of town," says Fairey. "I'm inspired by Chicano murals, old signage and the grittiness." Rose agrees: "When I download my photos every week, they are almost all of fonts from old signs I see." Both artists find a satisfying tension in the contrasts between the high and the low, the scrubbed and the frayed. At one end of the spectrum lies the artifice of pre-fab Disneyesque malls, such as The Grove on Third Street, the new Americana in Glendale and the twinkle of Beverly Hills. At the other end, roam streets that may be a little tattered but still teem with raw, saturated beauty.