The Gaslamp Killer Box Set
From The Giant: The Definitive Obey Giant Site
From ObeyGiant.com: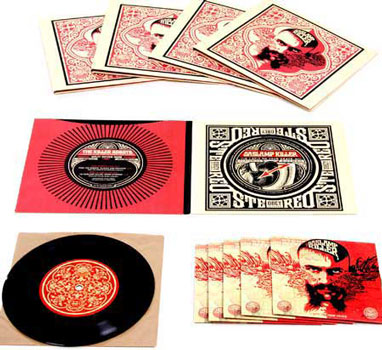 OBEY THE GLK
In it's fifth mixtape installment, OBEY Records presents The Gaslamp Killer Box Set featuring an exclusive CD mixtape, along with a split seven inch (tracks by The GLK and up and coming artist, Free The Robots.) After a tremendous musical barrage in 2007, OBEY takes a step further into the deeper, darker world of sound, educating those that pop isn't the only thing to listen to and that life can't be appreciated without a bit of murder and death.

The Gaslamp Killer (William Bensussen), Los Angeles based DJ/Producer, Low End Theorist, and Dublab Radio resident, is not your conventional artist. What separates him from the rest of the herd is his extensive knowledge in psychedelic rock, demonic bass-heavy Hip-Hop, Middle-Eastern/ Indian rare grooves, and ear-piercing helicopter breaks. The energy during his live sets resonates through crowds, taking you to the filthiest psyche/freak-out you've ever been on. He's earned the respect of eclectic heavy-hitters and has shared the stage with Digable Planets, Broadcast, M.F. Doom, Thievery Corporation, and many others.

"I just brought the hardest records I own to the studio and I just started putting everything together. Now it's time to share it with you…" – The Gaslamp Killer

"My art for the Gaslamp Killer mix was inspired by Theo Jemison's photograph of The GLK's face, combined with his music and personality. The GLK is into dark and psychedelic sounds, so that, combined with his name, called for a hippie/horror salad tossed with a blood vinaigrette. The flavor was only enhanced by the Gaslamp Killer's more sinister personal look, having shaved his dreads and grown an unruly beard and sideburns combo worthy of the most savage maniacs. You must wade through boiling pools of blood to get to the promised land, but the journey the Gaslamp Killer takes you on is all part of the destination." – Shepard Fairey

The OBEY/GLK screenprint and cd package will be available on March 18th 2008. The Box set and t-shirt are available at premiere music and clothing shops worldwide.