Public Works
From The Giant: The Definitive Obey Giant Site
For the print often referred to as Public Works, please see DJ Shadow.
---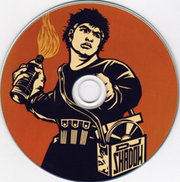 DJ Shadow and
Shepard
collaborated
in 2005 to create Public Works, which is described on
DJ Shadow's website
as "a DJ Shadow/
Obey
Reconstruction." A variety of products were released under this project, including buttons, stickers, t-shirts, two prints, and a limited edition box set.
The box set, a limited edition of 450 priced at $169.99, included the DJ Shadow Funky Skunk mix CD, five t-shirts printed on American Apparel stock and tagged as Obey Clothing products (the fifth was a box set exclusive and featured a George Bush as Grim Reaper design), the Obey Giant Post No Bills book, stickers, and buttons, all of which were packaged in a silkscreened cardboard box.
The four non-exclusive t-shirts were later released for sale, one per month, on www.shopdjshadow.com. The designs, in order, were navy Portrait (of DJ Shadow), olive Crane (same graphic as the large format silkscreen poster), red Take Action (the same graphic as the small format silkscreen and later used on the Molotov Man print), and black Crest.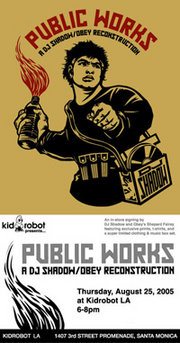 A sixth Public Works t-shirt that was not part of the box set, the "Crown and Bird" design, was released in December of 2005 and made available on both
www.shopdjshadow.com
and
www.obeygiant.com
.
The DJ Shadow silkscreen print was limited to 200 copies and came signed only by Shepard. It first went on sale at the grand opening of Public Works, with a limited supply later appearing on www.obeygiant.com. It sold out very rapidly.
An additional, smaller-size print was also release to commemorate Public Works. Released as a limited edition of only 50 and apparently signed by both DJ Shadow and Shepard, this print featured the same graphic later used on Molotov Man. The small format print sold out at the grand opening of Public Works at Kidrobot LA on August 25, 2005.
Links
Official DJ Shadow website
Kid Robot - Public Works Signing
---
Images of the Public Works merchandise: